Aldo Kane works as an Extreme, Remote & Hostile locations expert for TV & Film, and Anna Williamson is a Television Producer. The two met on a shoot in Ecuador in 2015. Over the course of 10 days in a remote jungle camp on an erupting volcano, they became good friends and started dating some months later. Their relationship has always been accented by long periods apart as they both pursue careers that involve a lot of overseas travel. They can both vouch for the truth in the phrase 'absence makes the heart grow fonder'. The couple got engaged on a wild wintery night in December 2018, in Riomaggiore on the Cinque Terre in Italy, and decided to get married in September the following year.
We choose to get married at…
There were two things we were both sure about, we wanted to get married outside, and in the Scottish highlands. But as we started to plan, the logisitics of getting everyone to Scotland to enjoy the sort of day we really wanted, became increasingly complicated – so we got creative. We decided to have a small 'legal' ceremony in Scotland, followed by a large 'official' ceremony and party for all our friends elsewhere.
Unlike in England, you are permitted to get married anywhere in Scotland, so we were able to make our legal vows on the slopes beneath the Aonach Eagach Ridge in Glen Coe – our favourite place on earth – surrounded by a small collection of people closest to us. Once we'd said 'I do' we cracked open the champagne and sat amongst the heather on an unseasonably sunny day, while our friend Billy played the bagpipes. Then we went to to a local legendary pub, The Clachaig, for haggis and whisky!
The following weekend we had a big wedding in the Yorkshire village I grew up in. We had the 'ceremony' in our friends garden, then a big knees up in the local village hall. This meant the bigger event was in an area we both knew and had the resource of family and friends nearby. We brought a bit of Scotland with us to Yorkshire though, with a piper leading me down the aisle and a cèilidh after at the reception.
The best part of our day was….
On the morning of our wedding in Scotland, we asked everyone to join us for a bracing swim in the River Etive. The river winds through Glen Etive from Ranoch Moor to Loch Etive and is framed by amazing rock formations that surround deep, peat brown pools – its perfect for jumping off big boulders and swimming in. Aldo and I absolutely loved being surrounded by all our friends as everyone stripped off into their swimmers and had a 'dip and a nip' – a quick swim followed by a nip of whisky. It was the most beauitful sunny day, but the water was still freezing! We'd all had a bit too much fun in the pub the night before, so it cleared heads and set us all up for the most amazing day.
I knew I found 'The One' when…
I found planning my outfit for both weddings pretty stressful. I'd always planned to get my dress made, but my work schedule blew up and engaging in planning a design was beyond me. I started to go down the traditional routes and booked appointments with various dress shops but nothing felt right and I was starting to hate the whole experience. Then I found a Pronovias dress online that looked like it might work. In the process of trying on various styles I'd worked out the cuts that would suit me and this dress looked really promising. I was heading home to my mum's for the weekend so looked for a stockist near her home and booked an appointment at Bridal Rogue Gallery in Harrogate. I tried on the dress which was lovely and started making plans for fitting etc. Then as we were finishing up my mum pointed at a St Patrick dress that was so different to anything I would ever wear, we decided I should try it on for a laugh. It was strapless (definitely not for me) with a huge skirt (almost meringue territory – how awful!) and stripy (can you imagine?!); and the minute I put it on I knew I'd found 'the one'! I burst out laughing and felt myself relax in a way I hadn't in anything else I'd tried.
That was the Yorkshire wedding sorted, but the Scotland part was much harder. We expected rain (because, Scotland), and we had to hike halfway up a hill to the spot we'd chosen to say our vows – I was going to be wearing a waterproof jacket and boots! There were lots of pictures of women in lovely romantic white cotton dresses and muddy walking boots on Pinterest, but I couldn't find anything right, and again my time was limited with work. With only three weeks to go, it was starting to get a bit desperate; I was on my lunch break in Soho and walked past a shop window displaying a pair of the most spectacular silver sequin leggings I'd ever seen. I sent Aldo a quick text;
"How would you feel about me wearing glittery leggings in Glen Coe?"
To which he replied;
"It's you and I'd absoluely love it!"
So I bought them, there and then.
Aldo had a special kilt made for the Scotland wedding, by expert kilt maker Glen Isla Kilts. The material was a custom camouflage design which incorporated the colours of Glen Coe in autumn. For the Yorkshire wedding, he wore his family tartan and a suit and waistcoat from Walker Slater.
The most enjoyable moments of planning were…
We got our wine from our friends vineyard, Château Lestevenie, in Bergerac, which involved a long weekend drive down through France to try the wine and pick it all up – which was obviously a lot of fun!
We also had a lovely weekend in Glen Coe working out the exact spot we would say our vows, and deciding on the best place for a swim.
The hardest part of planning was…
Aldo served with the Royal Marines for 10 years and his time in the corps hugely shaped the person he is today. When we started to plan the music for the day I decided to contact the Royal Marines Band to see if they ever played small private events. I decided not to talk to Aldo about it until I'd found out if it was possible, and sent an email to their 'contact us' address, expecting a fairly swift 'no' in response. A few hours later I received a reply from a man who knew Aldo, which explained it actually wasn't a 'crazy request' at all, and that he would be glad to help. The next day, I put down the phone after a lengthy call, in which we'd arranged for a Corps of drums to march us from our friends field to the village hall where we were having the reception. I decided during the call that I wasn't going to tell Aldo, and it would be my surprise gift for him. I have never been able to keep anything from him, so this was without a doubt the biggest challenge in the run-up to our wedding!
About a month later, things got really tricky. Aldo announced he was going to see if the Royal Marine Band had a ceilidgh band we could get to play for the ceilidgh. I couldn't believe my ears and just tried to act vaguely disinterested. The next day my contact emailed me to let me know Aldo had been in touch. We had a quick phone call and decided he'd tell Aldo there was no one available. Aldo was so disappointed when he told me they couldn't do it, I almost confessed the whole thing.
The only way to keep a secret is not tell anyone. So I didn't tell a soul for the full run-up to the wedding. It was only the week before that I had to let 4 people in on the surprise. I arranged for the band members to get changed and ready at someone's house who was away for the weekend and I put my brother-in-law in charge of greeting the band members and making sure they knew where to go. Then on the morning of the wedding I let the Master of Ceremonies (one of Aldo's best mates) know that the band would be assembling just out of sight behind the gate into the field and that the piper – the last person I let in on the secret – would be stopping at the gate and moving to the side to let the drummers through.
Everything went to plan and as Aldo and I walked down the aisle toward the gate the piper pulled aside and Aldo looked totally bemused and started signaling him to carry on walking, then the Corps of Drums marched out in their full uniform and Aldo was knocked out. To this day, I don't think he's forgiven me for keeping such a big secret from him!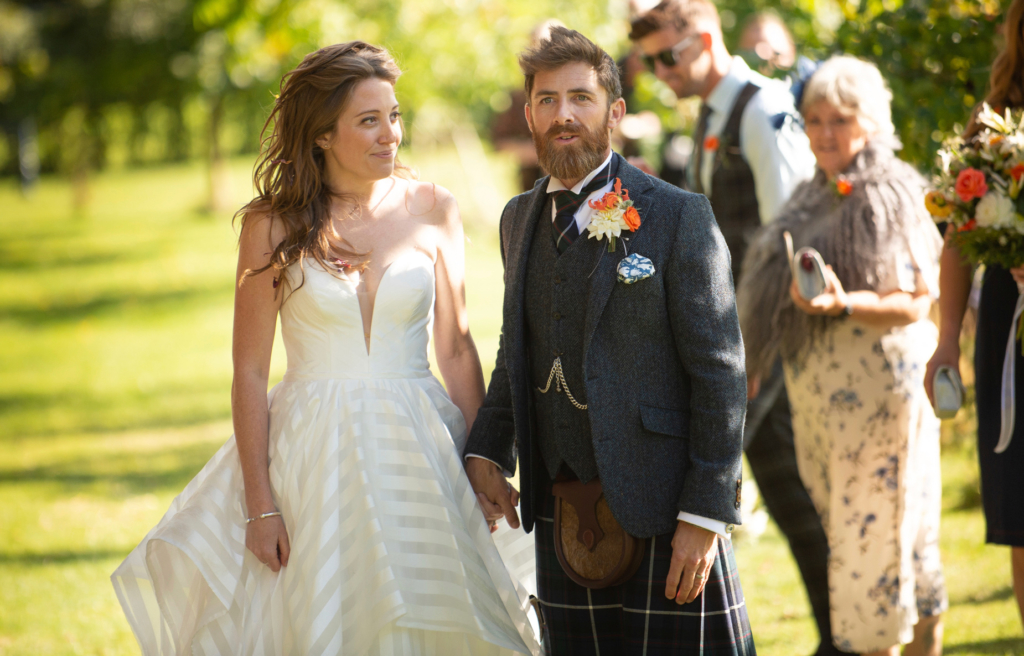 The best accounts to follow on Instagram for big-day inspo are…
The Fall Bride – @thefallbride , The Wedding Edition – @theweddingedition_ , and Victoria Farr Make Up Artist – @victoriafarrmua.
My top three tips for any couple would be…
Write down the things you both want as soon as possible after getting engaged, and then keep reminding yourself of those things as you plan. It's so easy to get caught up in everything and lose sight of what's really important to you as a couple.
Don't be afraid to flout 'tradition' – it's your day, there are no 'shoulds' or 'shouldn'ts'.
If you can, have a casual get-together with everyone the day after. You will get a chance to talk to more people and it's always fun to have a hungover debrief!
If I was able to do it all over again, the one thing I would change is…
I would have done my table plan and place settings before the night before the wedding!! Terrible mistake.
List of suppliers
Venue: North Newbald Village Hall
Caterer: Shoot The Bull @shootthebulluk
Dress: Bridal Rogue Gallery @bridal.rouge.gallery
Groom outfit: Walker Slater @walkerslater & Glen Isla Kilts @glenislakilts
Florist: Anna Spitalny @bonita.blooms
Stationery: Parrot Press
Wedding website: Getting Married @gettingmarriedcouk
Photographer: Martin Hartley @martinhartley
Makeup: Victoria Farr
Hair: Michelle Smith
Related Articles: Inside: Our Co-Founder's Colourful Farm Wedding