Why book?
For the gastronome couples angling for a Greco-Roman feasting-style wedding, just without the mass shlep to the continent. In plum position overlooking Mayfair's swanky Berkeley Square, Bacchanalia delivers on all the post nuptial glamour and convivial energy, with superlative food and wine right in the heart of the city. There'll be no boredom complaints from guests, with the restaurant's fantastical interiors, dominated by vast Damien Hirst sculptures of unicorns and winged angels, and a prevailing mood of Romanesque revelry.
Venue style
Let's be clear, this is a prestigious postcode to celebrate tying the knot in, one set against Mayfair's historic leafy streets and symmetrical Georgian facades. An unapologetic opulence governs in these stretches, one that can be found in abundance once through Bacchanalia's Narnia-like doors, where guests find themselves in the company of Greek gods, free-flowing Champagne and a deftly-curated feasting menu. Couples looking to forgo the slightly staid, chandeliered drawing room or a classic hotel wedding space should consider Bacchanalia's infectious sense of fun, flamboyance and classical-kitsch interiors.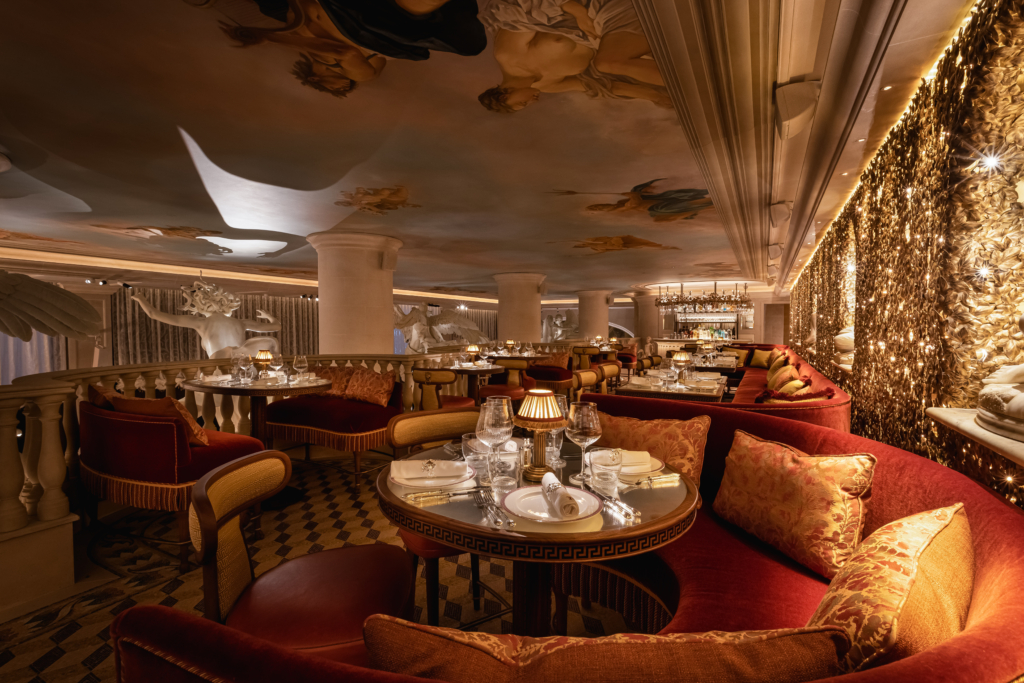 Set the scene
A frescoed ceiling appears held up by hefty white pillars, from which a Damien Hirst's snake-headed Medusa and line-up of other statuesque angels, gods and unicorns leap – the sort you'd expect to find at the tip of a column in one of Rome's plazas or buried beneath Athen's layers of antiquity. Beneath them, and Medusa's threatening gaze, lies a lavish, bistro-style dining room decked in merlot-hued velvets, silk cushions and a Romanesque style chequered marble floor. This decadent paean to the classics is the stellar work of prolific restaurateur Richard Caring and eminent interior architect Martin Brudnizki (the latter known for his considered maximalism).
The hedonistic tone is astutely set by Gary Myatt's floor-to-ceiling mural depicting 'Romans In Their Decadence' – while busts on pillared stands and statues peering out from the bar keep the kooky classicism front and centre throughout. Peer above the bar and the ceiling gives way to ammonite structures, bed into the velvet booths with a glass of fine wine and trace the intricate mosaics lining the floor – the attention to detail is staggering and mirrors the rampant excess and artisanal creativity that spun the cities of ancient Greece and Rome.
Guests peeling off to use the ladies will encounter the nymphs, emerald green mosaics and orchids in the Garden of Hesperides classic, while the men's sultry hues, panthers and snakes pull them deep into the Hades' underworld. A gladiator-esque mezzanine seating area (think white protruding balconies) would make a superb speech platform or, perhaps, an opera singer appearing, while the private dining room, Artemis, would lend itself well to intimate weddings or rehearsal dinners, with large windows peeling back an opulent scene of the restaurant below. Couples can ignite this classical design den with live performances or DJs, adding their own touches with really very little need for flower expenses or decoration in general.
Event spaces
Seating up to 88 guests, the main dining room is a real show-stopper for a wedding breakfast and a fun, unexpected change of gears from a church service or registry office. The sheer abundance of statues, frescoes, mosaics and mirrored dividers gets the festivities going before anyone's even been passed a glass of Veuve Clicquot or the music has lifted. There's certainly no risk of a bland backdrop for wedding photos – with every nook and cranny spoken for on the quirky-classic design front. From the lion knockers studded into the chair backs to the glowing snake sconces lining the walls – it's a riot of Romanesque and Grecian glory that sets the scene for a truly memorable wedding breakfast (and after party).
An extravagant and more intimate option overlooks the main dining room, Artemis: 'the inner sanctum of Bacchanalia's temple' and named after Bacchus' secretive sister. This is where to feast with your nearest and dearest (up to 18), among intricately carved walls, marble floors and plush, turquoise velvet chairs and with endless plates and platters of delectable food. The space could also form a secretive base for family, bridesmaids and ushers on the day – somewhere to escape to for a last minute speech rehearsal, a cool glass of Champagne to steady the nerves or simply a time out from all the meeting and greeting. A further, equally Instagrammable dining space option is the mezzanine, which seats up to 34 and enjoys a privileged, godly perch above the grand and gregarious scenes below. Reminiscent of the Emperor's balcony in a colosseum, it can also act as a dramatic platform for the wedding toast.
Those wishing to drive the party well into the night can spill into Appollo's Muse, one of the city's most exclusive private member's clubs on Mount Street, and continue the Champagne-fuelled revelry amid a similarly eye-popping collection of 2000-year old Greek and Roman artworks.
Food and drink
Foodie couples are in for a treat, with Bacchanalia's menus giving its fresco-and-fountain-filled interiors a run for their money in the flamboyance and excess stakes. Renowned chef Athinagoras Kostakos has worked his culinary alchemy on the Greek and Italian classics, dialling up the foodie fanfare with wow-factor presentation and seasonal ingredients fit for the Greek gods. Plates of seabream carpaccio, risotto nero, linguine vongole, Greek sausage with smoked aubergine and moreish 'nduja beef tartare arrive in theatrical fashion – carved, de-boned or lathered in sauce tableside by affable, toga-clad waiters. The brief at Bacchanalia is unequivocally one of sharing – particularly where the food is concerned, many of which transports those round the table to the sun-soaked Cycladic islands: the Greek shrimp saganaki wallowing in a steamy pool of San Marzano tomato sauce, ouzo and feta, or the linguine alle cozze with fresh mussels and the thrilling kick of chilli.
These deftly-cooked numbers soon fill the reflective, winking tables and are washed down with an eyebrow-raising wine list, one that incorporates over 650 labels across Greece, Italy, France and beyond, with a firm focus on the haute classics. Along with their own-label wines (House Champagne, Super Tuscan red and Assyrtiko white wine), Bacchanalia is the only haunt in London to brag 25 Italian 100-point wines, which, to decode the viticultural speak means exquisite wines your guests will wax lyrical about for years to come.
The story
Since opening in November 2022, Bacchanalia has lit up Instagram homepages in fantastical fashion and pricked the ears of London's bon viveurs. Richard Caring's offer of an escapism ticket (albeit an unapologetically lavish one) was duly taken, with spruced up diners smugly showing up for a long-awaited booking. Beyond rampant excess and hedonistic menus, Bacchanalia's philosophy is one of sharing – a well-documented Mediterranean trait and one that ties in neatly with the very essence of celebrating a long, healthy marriage, filled with friends, laughter (and good food).
The need-to-know: 
Budget: Private Dining Room hire: £4,000.00 – Mezzanine hire: £8,000.00
Capacity: dining for 88 guests in the Main Dining Room; Dining for 18 guests in the Private Dining Room, Artemis; Dining for 34 guests on the Mezzanine
Location: 1-3 Mount St, London W1K 3NA
Contact: bacchanalia.co.uk/the-events or by telephone: 020 3161 9720
Website: bacchanalia.co.uk/
Instagram: @bacchanalialdn
Related Article: Is Cornwell Manor The Wedding Venue For You?