Eshita Kabra is here to ensure you look great this wedding season without spending a fortune and keeping those sustainable credentials in check with 10 looks from her By Rotation collection that need to be on your radar. When it comes to wedding guest dressing it's overwhelming with the sheer quantity of styles on offer, particularly in the dress department: minis, maxis, low-backs, high necklines, sleeves or no sleeves…
So TWE has worked with By Rotation to yield some sustainable-suitably-chic options that wouldn't look amiss on a runway. You can thank us later….
10 Looks For Wedding Guest Dresses
When attending weddings, I always turn to By Rotation as my first and foremost option – shopping new for the most part has been out of the question this year for me! The incredible thing about our rental community is that there always seems to be the latest collections and most beautiful pieces available at a fraction of the retail price.
As wedding celebrations are often so special and exclusive, I'm very careful to be dressed with my best foot forward. My advice would be to steer away from ubiquitous brands and instead try something different, and to wear solid colours or bolder prints than you usually would. Weddings are the occasion for one to dress sharply, elegantly and memorably.
Here are my top selects from the By Rotation, including a few recent rentals of my own. They range from contemporary to designer brands, and are often sold out highly-coveted numbers!
Look 1:
Missoni Strapless Emerald Gown
https://byrotation.app.link/Lehm8g7XaDb – (Sold out everywhere)
Look 2:
Zimmermann Patchwork Cut-out Dress
https://byrotation.app.link/q2CHXSdYaDb (Sold out everywhere)
Look 3:
Dolce & Gabbana Tiered Chiffon Lily Applique Dress
https://byrotation.app.link/clK4Tr1XaDb (Sold out everywhere)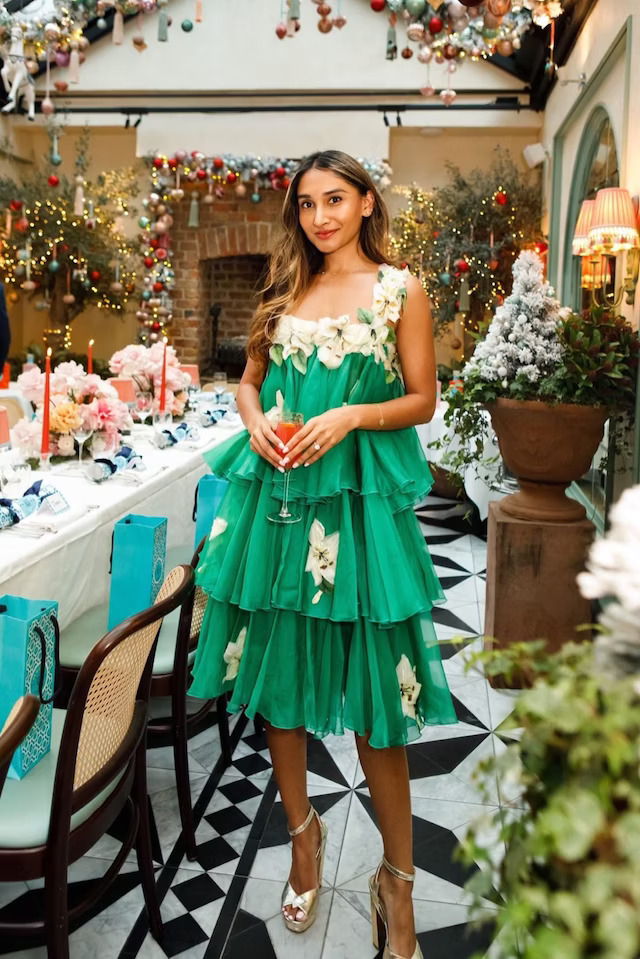 Look 4:
Saks Potts Henriette Silk Satin dress
https://byrotation.app.link/UGA2ddyZaDb (Sold out everywhere)
Look 5:
Cult Gaia Lilac Raisa Gown
https://byrotation.app.link/aPKugIPXaDb (Sold out colour)
Look 6:
PatBo Blue Cutout Twist-front Ombré Lurex Maxi Dress
https://byrotation.app.link/Q0Qe5OSXaDb (Sold out everywhere)
Look 7:
Acler Palms Dress in Pink
https://byrotation.app.link/Zg0XEnBXaDb (Sold out everywhere)
Look 8:
De La Vali Vivienne Silk Dress in Blue
https://byrotation.app.link/Ve56ydwXaDb
Look 9:
Tove Solene Dress in Cobalt Blue
https://byrotation.app.link/XEHhWXnXaDb
Look 10:
The Vampire's Wife Raspberry Pink Metallic Falconetti Gown
https://byrotation.app.link/escSDHhXaDb
Additional links for wedding guest looks:
Zimmermann Raie Cutout Ruffled Print Dress: https://byrotation.app.link/jUdcFRAWaDb
Hervé Legér Crystal embellished midi bandage dress: https://byrotation.app.link/2hhTDCl0aDb
Sleeper Boheme feather midi slip dress in mint green: https://byrotation.app.link/sIDXz0HWaDb
Taller Marmo Ubud One-Shoulder Feather-trimmed Satin crepe maxi dress: https://byrotation.com/designers/taller-marmo
Aje Fringed faux raffia-trimmed ribbed stretch-knit midi dress: https://byrotation.app.link/at5ST7YWaDb
Galvan Sienna Sleeveless Turtleneck Bow-Back Dress in Pink: https://byrotation.app.link/9VPp6z3WaDb
Saloni Michelle Dress in Green: https://byrotation.app.link/9ATue0aXaDb
Related Article: 7 Wedding Guest Looks and Accessories With Alexandra Carello