Statement sleeves, flower-scattered capes, knee-skimming hemlines and 3D lace dominated the catwalks at the latest season of shows. Save yourself hours searching all the coverage from this year's New York Bridal Fashion Week, and pin our editor's top picks to your favourites now!
The Misha by Mira Zwillinger, Jade Beer
Designed around the concept of unity, the latest 13-gown Wonders collection from this mother and daughter duo is every bit as delicately handcrafted as previous seasons. Mira Zwillinger is one of my most anticipated collections from the New York shows. There is such enormous skill in creating dresses that appear so ethereal (think tulle wraps, layered 3D lace, floral capes and botanical detailing) as if they were almost sitting above the body, but expertly tailored to give the wearer maximum confidence. For me, the sweetheart neckline of the Misha ball gown, scattered with floral lace and with its detachable off-shoulder, long sleeve topper just nudges ahead of the rest. It is the attention to detail, the precision and the endless effort poured into every piece that makes this label the one I always look to first.
UK stockist @brownsbride
The Crawford by Lela Rose Bridal, Jade Beer
A tightly edited 10-look bridal collection this season from Lela Rose that has all the hallmarks of the luxurious detailing she is known for. Inspired by the cherry blossom trees lining the streets of New York, look out for a new jacquard fabric featuring the flowers, a smattering of pearls (don't miss the crop top with vintage inspired pearl embroidery and paired with a simple crepe column skirt) and a range of new statement-making accessories including a crystal and pearl overlay and a tulle and lace-trimmed cape. But for me, The Crawford is the star of the show. A knee-skimming guipure lace, long sleeve dress with pretty petalled edges that gently creep up the neck and over the wrists. The soft white flounce skirt was made for dance-floor-loving brides who want elegance with a huge side of fun.
UK stockist @brownsbride
The Demetria by Costarellos, Jade Beer
With a strong leaning towards romantic, light and effortless dressing across his bridal and ready-to-wear collections, Christos Costarellos was the designer of choice for Carrie Johnson for her May 2021 wedding to the Prime Minister. He's also the go-to for women who want to look just bridal enough with a versatile mix of separates and easy-to-wear dresses that have a life way beyond the wedding day.
The Greek landscape and culture inspire this latest collection with a noticeable injection of 70s and 80s detailing – think sequins and crystal fringes, plisse fabrics, high waisted and wide leg trousers and skirts slashed to the thigh. The standout bias-cut Demetria is impossible to miss. Made with a liquid-like iridescent lurex georgette, it's luxuriously draped across the body for a look that manages to be super sexy and comfortably chic.
UK Stockist: @harrods
@costarellosbridal
The Blanché by Liz Martinez, Alessandra Frame
La Mariée is an impeccably crafted 20 gown collection featuring sheer fabrics, hand embroidered crystals and intricate floral motifs. This latest work proves Israeli designer Liz Martinez is at the top of her game as she delivers a collection that is both whimsical and sensual all at the same time. Viewing these breathtaking looks I really struggled to select a clear favourite, which I think says it all. In the end it was the Blanché that kept drawing me back for more. Perhaps the most fashion forward look in the collection, the bold sleeves made from sheer gathered tulle make a statement while floral embellishments to the decolletage bring a playful softness to the gown that is completely irresistible.
www.lizmartinez.co.il/collections/
Contact [email protected] to attend the London trunk show in July with Liz Martinez herself
The Celine by Elizabeth Fillmore, Alessandra Frame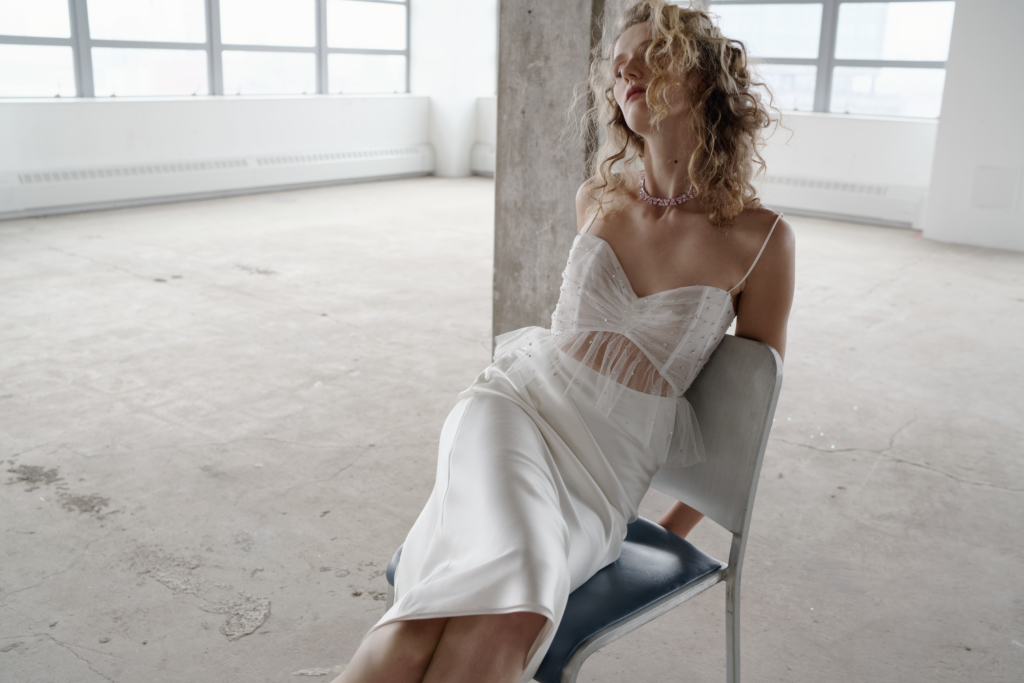 Elizabeth Fillmore's Spring 2023 collection 'Femme Fatale' showcases a stunning selection of fresh looks whilst remaining faithful to the brand's core aesthetic. When I think about this brand, it's the luxurious and perfectly executed separates that really speak to me. For brides to be, I think Elizabeth Fillmore should be top of the list in the search for that perfect after party bridal look or chic town hall wedding ensemble. The collection captures what it is to be cool and fashion conscious whilst still remaining elegant enough for your look to stand the test of time. My pick of the bunch has to be the Celine. The crystal embellished tulle bodice is both flattering and a little bit sexy as a sheer peplum detailing cascades over a sleek mid-length crepe skirt. My mind runs wild thinking about how you could style this look.
@efbridal
UK Stockist @brownsbride
Related article: Louise Selby: Exclusive First Look At The SS22 Bridal Collection